MPI APPOINTS MILLCHEM AS NEW DISTRIBUTOR FOR SOUTH AFRICA
---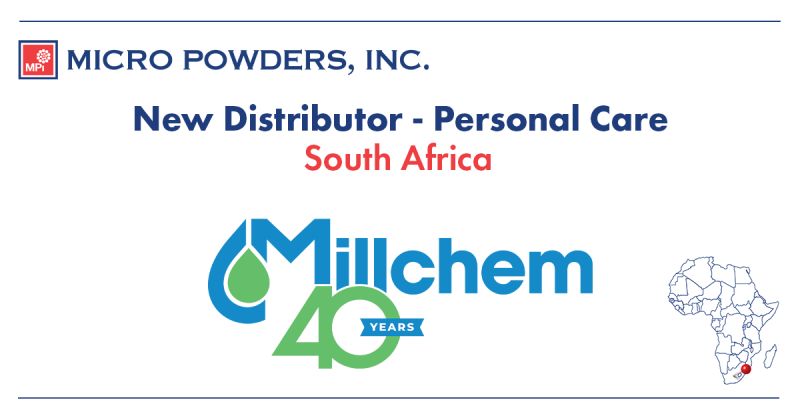 MICRO POWDERS APPOINTS MILLCHEM (PTY) LTD  AS NEW DISTRIBUTOR FOR SOUTH AFRICA
TARRYTOWN, NY – August 2023– Micro Powders, Inc. appoints Millchem (PTY) Ltd as their exclusive distributor to represent their Personal Care division in South Africa.
Millchem is headquartered in Johannesburg South Africa, with offices in Durban and Cape Town, founded in 1983 by Rodger Damen, and run by Chris and David Damen making this a family-owned business. They focus on the sales and distribution of specialty chemical raw materials and process machinery into various industries.
"We are very pleased to welcome Millchem to our distribution network. This union will allow Micro Powders and Millchem to combine strengths, enhancing our services for all customers in South Africa and is a winning combination for success", said Diana Smith, Global Sales Director, Micro Powders, Inc.
"We are excited to add Micro Powders to our portfolio of products, and to draw on the knowledge and expertise that Micro Powders can offer in small particle additives, as experts in this field," said Chris Damen, Director, Millchem. "With this partnership, we look forward to bringing innovative ideas and solutions to our customers, and to enhance their product performance and aesthetics."
About Millchem (Pty) Ltd
Founded in Johannesburg South Africa in 1983, Millchem has grown to be a National marketing and distribution company, for the supply of specialty products and process machinery into a wide variety of industries, including the Personal/Care and Detergency industry, Container Glass Manufacturing sector, the Food Packaging and Beverage market and Textile industry to name a few. With offices across South Africa, Johannesburg (HO), Durban and Cape Town, we can service customers Nationwide, offering technical sales support and locally available stocks, to ensure our customer can develop new products, and bring these successfully to market. We take pride in becoming a partner in our customers' business, building strong relationships, and working side by side, to ensure that we provide sustainable, innovative solutions to their business, through our wide range of world leading specialty products and equipment. Learn more at www.millchem.co.za