MPI APPOINTS IMCD US AS NEW REGIONAL DISTRIBUTOR
---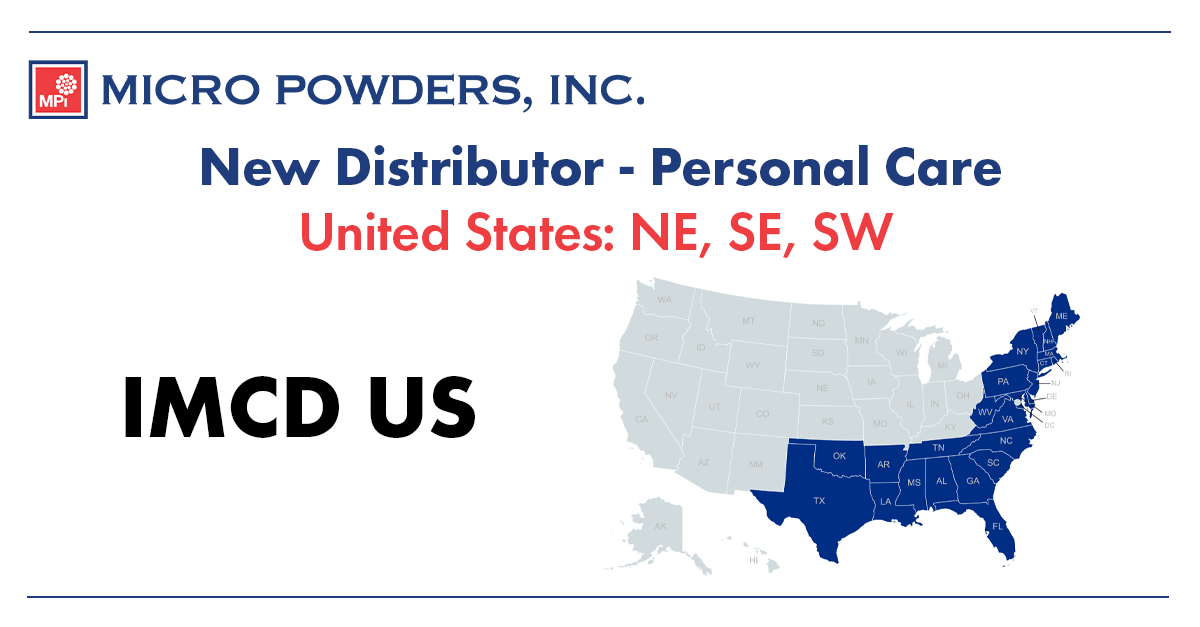 MICRO POWDERS APPOINTS IMCD US AS NEW REGIONAL DISTRIBUTOR FOR PERSONAL CARE PRODUCTS
TARRYTOWN, NY – September 1, 2023 – Micro Powders, Inc. announces that IMCD US, LLC ("IMCD US"), part of IMCD Group, will exclusively represent its full line of natural and synthetic fine powders and exfoliants for personal care applications throughout the Northeast, Southeast, and Southwest United States. This partnership will help further strengthen IMCD US' existing portfolio of specialty ingredients that deliver effective and sustainable formulatory solutions to the beauty and personal care industry.
This newly established regional partnership is a natural fit and complements the extensive line of functional and active ingredients IMCD US distributes. The addition of Micro Powders' products will offer formulators even more creative tools, from one distribution source, to develop game-changing products.
"We are excited to welcome IMCD US to our distribution network in select regions of the United States. Our partnership will allow us to combine strengths, enhancing our services for all US customers within their territory for Micro Powders," said Diana Smith, Global Sales Director, Micro Powders. "This alliance is a winning combination for success."
About Micro Powders
Micro Powders, Inc. is the worldwide leader in advanced micronized wax technology, with a portfolio of over 200 natural and synthetic powders, composites, dispersions, and emulsions that enhance the performance of paints, inks, coatings, cosmetics and personal care products, agrochemicals, and pharmaceuticals. Learn more at www.micropowders.com.
About IMCD Group   
IMCD Group, headquartered in Rotterdam, The Netherlands is a leading global distribution partner and formulator of speciality chemicals and ingredients. A strong, innovative business partner and solutions provider for producers of consumer, industrial and durable goods in multiple business sectors: advanced materials, beauty and personal care, coatings and construction, food and nutrition, home, industrial and institutional care, industrial solutions, lubricants and energy, and pharmaceuticals.  
In partnership with our suppliers, we offer a broad and deep product portfolio. In over 70 application laboratories we co-create formulations and sustainable solutions that allow our business partners to make products with a positive impact on the world of today, and tomorrow. Our teams focus on providing commercial and operational excellence, using the best digital and logistics tools available to create a world of opportunity for our partners.   
In 2022, with over 4300 employees, IMCD realised a revenue of EUR 4,601 million.   
IMCD N.V.'s shares are traded at Euronext, Amsterdam (symbol: IMCD) and included in the Dutch ESG AEX index, as one of 25 companies within the AEX and AMX indices demonstrating best ESG practices. 
For further information, please visit www.imcdgroup.com.